Class of 2026 Family Medicine Residents
Pei Hsuan Chan, DO
Touro University Nevada College of Osteopathic Medicine
Hello all! My name is Pei Hsuan (Jamie) Chan (He/Him/His). I was born and raised in Taiwan, then relocated to the United States when I was fifteen. I have two sisters (I'm the middle child). Growing up, my family mostly spoke Mandarin and Burmese at home, making me fluent in 3 languages. I have an adorable cat named Simba, and he is the joy of my life! He had accompanied me on my journey to become a physician. I enjoy spending time with Simba by walking along trails and parks in the neighborhood. My hobbies include photography, baking pastries and desserts, and cooking a variety of ethnic cuisines. I also like exploring the cities and
visiting cafes, tea shops, and restaurants in my free time. Game night and karaoke night are some of the group activities that I always look forward to! I have lived in California, Nevada, and, most recently, Michigan. While living in the Midwest, I picked up kayaking and chasing fall foliage. During my most recent travel, I visited a few famous attractions in the Upper Peninsula of Michigan and even kayaked at Lake Superior! The breathtaking views at Tahquamenon Falls and Kitch-Iti-Kipi were some of my most memorable travel experiences (I highly recommend those places)! I enjoy the nature and suburb life in the Midwest but am super excited for a change of scenery and city adventure in Oak Park/Chicago!
I aim to practice Family Medicine focusing on Osteopathic Manipulative Medicine, women's health, geriatric medicine, and procedures. I look forward to servicing the suburbs and communities of Oak Park.
Christine Dankha, MD
Loyola University Chicago Stritch School of Medicine
Christine Dankha is a Chicago native with a passion for the underserved. She holds a Bachelor of Science in Biology from Loyola University Chicago and received her MD at the Stritch School of Medicine in Maywood, Illinois. She served as the wellness and mental health chair for White Coats for Black Lives during COVID. On her days off, she enjoys taking care of her plants and exploring Chicago. She hopes to continue giving back to Chicago and is thrilled to be serving in Oak Park in 2023!
Adrian Falco, MD
Texas Tech University Health Sciences Center School of Medicine
Hi everyone! I grew up in the suburbs of Houston, Texas. For undergrad and medical school I have called West Texas my home. The main reason I wanted to become a doctor was because of the books I stumbled upon in undergrad such as Jerome Groopman's How Doctors Think and Paul Farmer's works over Partners in Health. I was fascinated with how these physicians studied and approached the challenges they faced in healthcare. In medical school, pursuing these curiosities led me to projects such as creating a social services map for patients at our free clinic. Some of my areas of interest include preventative medicine, behavioral health, and health policy. Outside of medicine, I enjoy playing the saxophone and have been for the past 15 years. I used to avidly compete in the niche field of classical saxophone and am overly enthusiastic about overtone control. Another fun fact is that I am half Vietnamese. I love traveling and hope to visit my family in Vietnam again soon. I also love anything to do with being outdoors especially running, swimming, tennis, snowboarding, and hiking in national parks!
Maryam Farooqui, DO
Touro University Nevada College of Osteopathic Medicine
My name is Maryam and I grew up in Los Angeles, California.
My family immigrated from Pakistan in the 70s, and I grew up watching them navigate an unfamiliar medical system along with a new country and language. My passion for medicine blossomed through witnessing how proactive measures like health literacy and culture diversity impacted the health outcomes of my loved ones.
As a first-generation physician in my family, I am honored to prioritize the social and cultural determinants of health as I work with my patients. This has been a motivating factor as I've progressed through my training, and I hope to be able to serve underserved communities to the best of my ability throughout my career.
My proudest accomplishment to this end includes organizing a community-driven effort to collect funds, assemble, and distribute hygiene kits and meals to the homeless population of Southern California during the first wave of Covid-19. I hope to continue this type of work throughout my medical career and blend my passion for social justice with my career in medicine.
Outside of the hospital, I am a culinary enthusiast, enjoy singing, and have a passion for art and interior design. Having grown up in a foodie family, I find joy and relaxation in cooking and trying new recipes. I also loved to sing as a child, often performing in city choirs and showcases in my hometown.
At the end of a long day, I love working with my hands to paint, sew, sketch, and decorate. Unwinding with DIY and art projects allow me to relax and explore new art mediums.
Suleyman Goksu, MD
Akdeniz Universitesi Tip Fakultesi
I was born and raised in Turkey, where I completed my medical school and internal medicine residency program. Afterward, I decided to pursue my career in the United States to stay at the forefront of medical advancements. I had the opportunity to work as a postdoctoral research fellow at both Mayo Clinic and UT Southwestern Medical Center. Later, I was accepted into the Geriatric Medicine Fellowship at Loyola University Medical Center as an exceptional candidate. During my geriatrics fellowship, I've had the chance to work at a family medicine clinic at Loyola University on a weekly basis. Here, I've been able to care for patients from diverse backgrounds and age groups. This experience has fueled my passion for family medicine, and I am excited to begin the West Suburban Medical Center Family Medicine residency program. My particular interest lies in geriatric care, as I believe that the patient-centered approach is especially valuable for this population. By attentively listening to patients and providing appropriate feedback, we can make a significant impact on their lives. My fellowship has taught me that life is beautiful, even with its inevitable ups and downs, thanks to my interactions with my patients. In my leisure time, I enjoy spending quality moments with my family, hosting barbecues, and cultivating vegetables in my small garden.
Lauren Lucas, MD
University of Illinois College of Medicine
Hello! My name is Lauren and I was born and raised in the Chicago suburbs (Barrington, IL) along with my two brothers. For my undergraduate studies, I attended the University of Illinois at Chicago as part of the Guaranteed Professional Program of Admissions (GPPA) for Medicine, where I earned my double-major in Biological Sciences and Psychology. During my gap year, I worked as a ski instructor in Mont Tremblant, Canada before attending the University of Illinois College of Medicine, where I developed my passion for primary care and family medicine. I am truly excited to be part of the West Suburban team, and I look forward to developing my skills as a clinician and becoming a great family physician! In my spare time, I enjoy cooking, traveling, reading, skiing, watching movies, playing the piano, and spending time with family and friends.
Rami Oubari, DO
Pacific Northwest University of Health Sciences College of Osteopathic Medicine
Hello! I grew up in Portland, OR and received a bachelor's degree in Cellular, Molecular and Developmental Biology at the University of Washington. I moved to Yakima, WA, a small town in eastern Washington, for medical school and loved learning and expanding my interest in the holistic approach of healthcare. It was during this time when I discovered a particular passion for mental health treatment and well-being, especially in underserved communities. I spent some time during medical school volunteering at a local suboxone clinic and developed a love for addiction medicine as well.
Spending most of my life living in Portland and Seattle, I have a natural fondness for outdoor activities. I love swimming, jogging, exploring the wonderful natural beauty of the Pacific Northwest. My hobbies are largely rooted in arts, especially drawing, writing and filmmaking. I also enjoy exploring culturally rich areas by experiencing the different types of cuisine. I look forward to continuing these hobbies while serving the patient population in the Chicagoland area.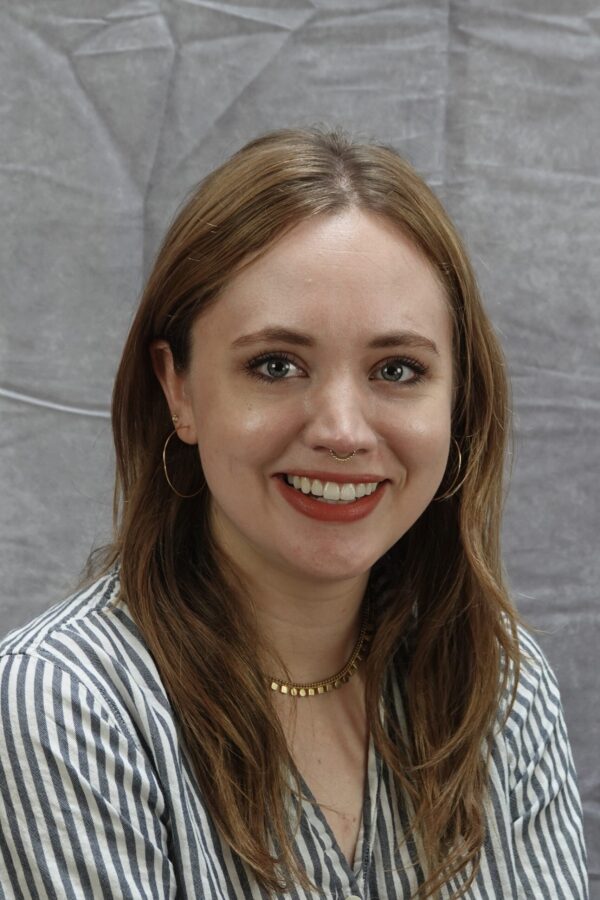 Anna Petersen, MD
Rush Medical College of Rush University Medical Center
Hi! I'm Anna. I grew up in the Bay Area in California and moved to Minnesota for college at Macalester. After working as an EMT for two years back in CA, I moved back to the midwest for medical school at Rush. I am so grateful to stay in this city for residency! In my free time I like going to karaoke bars, renovating my rental apartment, and listening to Taylor Swift.
Laxmi Shrestha, MD
Nepal Medical College
Greetings! My name is Laxmi Shrestha, and I was born and raised in Madhyapur-Thimi, Nepal. My passion for medicine and the desire to serve the community led me to secure a merit-based full scholarship from the Government of Nepal to pursue a Bachelor's in Medicine and Surgery from Nepal Medical College. Following graduation, I worked as a medical practitioner in community hospitals and health centers for several years. During that period, I also organized multiple health camps and awareness programs in the community and rural villages of Nepal. I migrated to the United States to pursue a Master's degree in Public Health from Tennessee State University. My ultimate goal is to provide comprehensive long-term care to patients of all ages and serve the community in the best possible way. I am thrilled to continue my medical journey as a West Suburban Medical Center family medicine resident. Aside from my academic pursuits, I love spending quality time with my family and friends, cooking, and exploring new destinations.
Preetham Yarlagadda, DO
Ohio University Heritage College of Osteopathic Medicine